Tif's ARTIST Statement
Want to see more of my work?

Well then, add my blog to get the latest updates:

★★★FOLLOW TIF's BLOG!!★★★

Subscribe to TifdoesArt: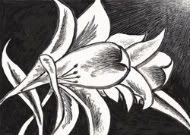 Lilies &copy 2008
Scratchboard

TIF
DOES
ART
TIF
DOES
ART
TIF
DOES
ART
TIF
DOES
ART
TIF
DOES
ART
TIF
DOES
ART
TIF
DOES
ART
★★ The Dashboard's Calling ★★
★★★★★★★
Feel free to search
Tif Does Art for Specific Posts!
Simply type a word (or part of a word) and the entries that fit that description will appear!
Both the above methods don't always show ALL the entries that coincide with a month/ key word. With that said, you can also search for specific memo's by clicking on that post's label!
Comments or Inquiries
Due to ongoing problems with spammers scanning pages for e-mail addresses, please use the form below to contact Tif. This is totally secure and requests or questions only go to Tif.
This form is for general requests or questions for Tif about this website or her artwork.
She appreciate's your interest and all your comments (positive or negative) are important to her! Tif will try her best to respond to every question she receives! Again, thank-you for your interest in Tif Does Art.