Tif's ARTIST Statement
Want to see more of my work?

Well then, add my blog to get the latest updates:

★★★FOLLOW TIF's BLOG!!★★★

Subscribe to TifdoesArt: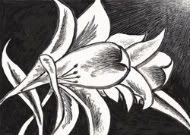 Lilies &copy 2008
Scratchboard

TIF
DOES
ART
TIF
DOES
ART
TIF
DOES
ART
TIF
DOES
ART
TIF
DOES
ART
TIF
DOES
ART
TIF
DOES
ART
★★ The Dashboard's Calling ★★
★★★★★★★
Feel free to search
Tif Does Art for Specific Posts!
Simply type a word (or part of a word) and the entries that fit that description will appear!
Both the above methods don't always show ALL the entries that coincide with a month/ key word. With that said, you can also search for specific memo's by clicking on that post's label!
"Make Art Tif" 2011
★ Digital ★
Inspired by Shepard Fairey
6"x8"
I am an artist, writer and constant daydreamer. While creating art has always been natural to me, I have realized that even from an early age, I produced pieces more for their expressional qualities than for the enjoyment of making them.

Working as Tif Does Art for over ten years now, I've found that my illustrations are more than a reflection of the world around me, they are my view of it. Thank-you for taking interest in my blog.
Specialties:
Graphic Design, Pastel work, Portraits, Customer Service, Editing and Writing